FESTIVAL GUIDE
How to Attend the Cannes Film Festival
Cannes is unique amongst A-list film festivals in that it's an event largely reserved for film industry professionals and the press. Accreditation, screenings, and entry to official venues is tightly controlled, with the vast majority of the festival off-limits to the general public.
Some consolation for non-industry bods is available via screenings in the Directors' Fortnight, and the those that take place at the Cinéma de la Plage (Beach Cinema), but both operate on a first come, first served basis. Members of official film enthusiast groups also have an accreditation track known as Cinéphiles, but this only provides access to selected screenings in venues outside Centre Ville. For the most part, everyone else must be happy star-gazing and enjoying what the south of France has to offer.
There are six different types of accreditation available for Cannes and each has different rules, fees, and eligibility criteria.
Festival Accreditation
Previously known as "professional accreditation", this is basically your bog-standard credentials for entry to the Cannes' screenings and official activities. Festival Accreditation is available to a range of film industry professions and provides access to all festival venues (the Palais, Riviera, Village International and the major hotels) and to screenings in the official selection and sidebars. Festival accreditation is free.
Market Accreditation
Each year nearly 12,000 industry professionals attend the Marché du Film. Market Accreditation is available to the board members and employees of companies which either operate in the film industry or service the film industry. Market accreditation costs around 300€ per person attending from a company.
Producers Network
Created in 2004, The Producers' Network is a special type of accreditation within the Marché du Film aimed at producers. The intention of the Producers Network is to provide a collection of services and events to help producers develop their projects and to encourage international co-productions. Accreditees must have made at least one feature film which has been commercially distributed to qualify for Producers' Network accrediation.
Industry Workshops
Formerly known as the Producers' Workshop (but renamed in 2018 to avoid confusion with the Producers' Network), this special Market accreditation track was added in 2012. It provides a programme of seminars and tours, front-loaded into the first few days of the festival (Tue-Fri). The aim of these sessions is to help participants navigate the marketplace and polish their producer skills to help them make the most of their time in Cannes.
Short Film Corner
Launched in 2004 alongside the Producers Network, the Short Film Corner is a programme within the Marché du Film dedicated to providing a marketplace for professionals interested in buying and selling short films. The Short Film Corner has its own registration fee structure, but the fees are reasonable and this type of accreditation represents the best option for new filmmakers who have a short film to show.
Press Accreditation
Cannes is one of the largest media events in the world and is attended by around 4,000 journalists, representing 1,500 media outlets in over 75 countries. Media access is managed directly by the Festival de Cannes via its "Press Accreditation Commission". Press credentials come in a range of flavours for different audience levels and media types- in other words, the higher the press outlet's profile, and the more people it reaches, the better the access that will be provided.
Cinéphiles Accreditation
Organised by the City of Cannes, in association with the Festival, Cinéphiles accreditation enables local residents to see films from the official selection and sidebars in several cinemas around Cannes, and some screenings in the Palais. Cinéphiles accreditation is also open to film enthusiast and education groups (both French and foreign), but it's worth noting that many of the screenings open to Cinéphiles accreditees take place outside of the main festival venues. As such, this type of accreditation isn't really suitbale for filmmakers looking to attend the festival.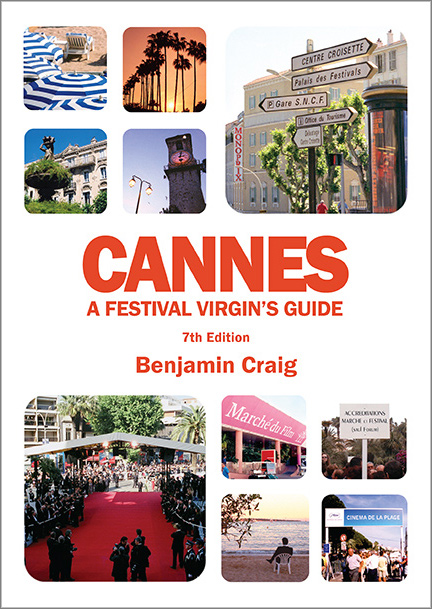 A full rundown on the 2024 Cannes Film Festival, is available in the book, Cannes - A Festival Virgin's Guide (7th Edition).
Find Out More >
< Back to Cannes Film Festival Guide