L'Etoile des Mers
47 Avenue de Miramar, Théoule sur Mer | French | €€€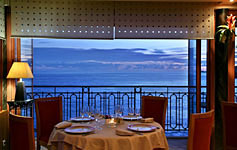 The traditional flavours of Provence are presented in new ways in this gourmet restaurant, where guests are made to feel most welcome in every room. The exotic touch of the palm trees and the vast blue and green landscape are just some of the ingredients that make dining here a truly magnificent experience.
Tel. 04 93 75 05 05 | www.tiara-hotels.com/h_grupo_page.asp?idioma=EN&id_page=169&id_hotel=10
Has this restaurant closed permanently? Let us know.

Reviews