FESTIVAL GUIDE
Structure of the Cannes Film Festival
Part 1: The Festival de Cannes
"In Competition", "Out of Competition", "Official Selection", "Critics' Week", "Directors' Fortnight", "the Market"... having been the first film festival to develop side-bar events, a casual observer could be forgiven for thinking Cannes now appears to be a bit of a confusing mess. In reality, there are actually five organisations overseeing 12 major sections that comprise what is commonly referred to as the "Cannes Film Festival".
Compétition (Competition)
The festival's main event. Here you'll find all the glamour, glory, and occasionally, controversy. Films selected for this programme are referred to as being "in competition" and vie for an assortment of awards. The Holy Grail is the Palme d'Or (Golden Palm), awarded by the competition jury to the best picture of the festival. It is one of the most prestigious film awards on the planet. Although it doesn't always translate to box-office gold (as bagging an Oscar for Best Picture can), a win will still give a film a massive boost. For art-house films, it can help secure a wider release and increased revenue; for foreign-language films, it means worldwide distribution. The competition is generally only open to narrative films, however occasionally the Festival slips in a documentary (such as Michael Moore's "Fahrenheit 9/11" which won the top prize in 2004).
Courts Métrages (Short Films)
The short film competition runs in parallel to its bigger brother, presenting a selection of narrative shorts (under 15 minutes) from around the world. Films in this programme vie for the Palme d'Or Court Métrage (Golden Palm for Short Films) and may also be bestowed with a special jury prize to recognise outstanding work. The Courts Métrages programme normally includes seven to ten films.
Hors Compétition (Out of Competition)
Cannes was one of the first festivals to realise that there was value in inviting high-profile films to premiere at the event, even if they didn't necessarily qualify for a competition berth. More red carpets mean more celebrities to pose for photo calls. In turn, this works to enhance the festival's image in the eyes of the press and the cinema-going public, without compromising the artistic integrity of the competition. As a result, each year the Festival invites around five to ten films to screen "out of competition". These films still get the full red carpet treatment, but aren't eligible for any of the prizes. Typically, the programme includes highly-anticipated Hollywood blockbusters through to the latest work from a respected European auteur. And more recently, several high-profile documentaries have made the cut (such as Al Gore's "An Inconvenient Sequel"), plus at least one or two midnight screenings, reserved for films that lean towards the 'cult' end of the spectrum.
Un Certain Regard
Create in 1978 to streamline some of the festival's more ambiguous programmes, Un Certain Regard (which loosely translates as, "At a Glance") is the main showcase section of the event. Intended to be a "survey of current world cinema", it typically focusses on films from newer directors, films which use innovative storytelling techniques, and work from countries which have a low cinematic output. For several decades, Un Certain Regard was non-competitive, but in 2013 the Festival de Cannes introduced a small number of awards to the programme.
Cannes Premiere
Cannes Premiere was created to provide a place in the official selection for films that the Festival would have liked to screen in Compétition, but was unable to due to the limited number of berths in the main event. Previously, these films would have often ended up in Un Certain Regard. But in 2021 the Festival indicated it wanted to return the focus of that section to a more streamlined view of current world cinema. Padding Un Certain Regard with work which otherwise might have made it into Competition was considered at odds with that strategy, so Cannes Premiere was born.
La Cinef
Debuting for the 51st festival in 1998 as "Cinéfondation" (and renamed in 2022), Le Cinef is a competition for work from students at film schools around the world. 15 – 20 films are selected and go on to compete for a small number of awards
Midnight Screenings
Historically, genre films never really had a place in the 'high-art' approach long taken by the Cannes Film Festival. But with success (and notoriety) of the concept of Midnight Screenings pioneered by other festivals such as Sundance, Cannes seems to have felt like it was missing out. Added in the early 2010s, the Festival reserves a couple of midnight slots for interesting genre films or those with challenging content.
Cannes Classics
In recognition of the importance of film heritage, the Festival added a new section in 2004 which has become known as Cannes Classics. The programme is used to showcase new or restored prints of classic films, and occasionally, rediscovered footage from days gone by. The festival works closely with major international archive collections and leading restoration companies to present around five films in the programme each year.
Séances Spéciales (Special Screenings)
Not strictly an official section per se, in recent years the festival has screened a handful of films outside the official programmes (and rather confusingly, also outside both the 'Out of Competition' and 'Cannes Premiere' selections). The number of films varies from year to year, and has included work from current auteurs, documentary-makers, and festival alumni.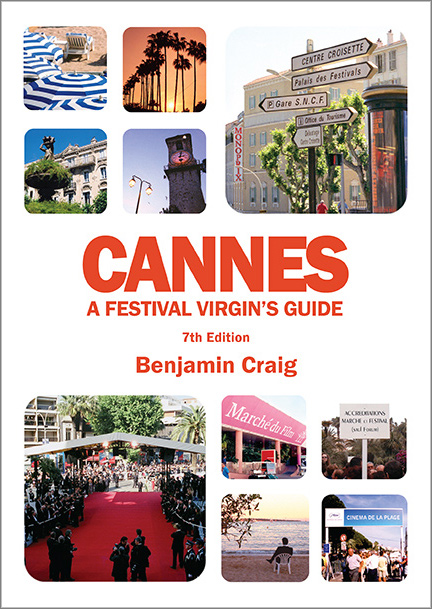 A full rundown on the 2024 Cannes Film Festival, is available in the book, Cannes - A Festival Virgin's Guide (7th Edition).
Find Out More >
Continue reading... Part 2: Other Organisations >