GUIDE
How to get from Nice Airport to Cannes 2023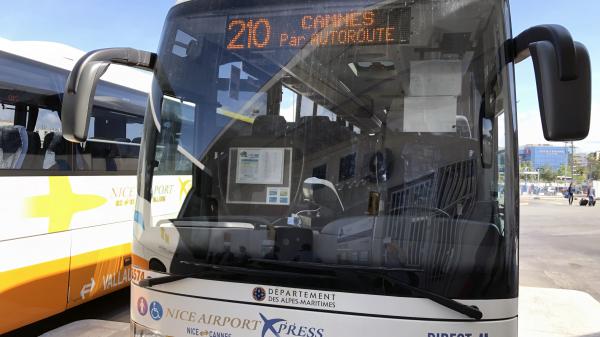 There have been major changes afoot with ground transport at Nice Côte d'Azur Airport (NCE) in recent years. Major construction work started in 2018 to connect the two airport terminals to the new regional tram service being put in place for the city of Nice. This has resulted in a few changes to the locations and options for getting from the airport to Cannes.

As of 2023 the construction work in the airport itself has been completed. Works are still ongoing at the new major transport interchange just outside of the airport, known as Grand Arénas. But the tram service itself has now been fully operational for a couple of years.
Options for Getting to Cannes
As with many things, your choice for getting to Cannes from Nice airport comes down to cost verses time. Overall, the best value transfer when you balance these two factors is the train. But your ultimate choice will also depend on what time of day your flight arrives or departs.
|   | Travel Time | One way ticket | Return ticket |
| --- | --- | --- | --- |
| Local Bus | 85 mins | 1.50€ | - |
| Train | 35 mins | 4.60€ | - |
| Express Bus | 45 mins | 22€ | 33€ |
| Uber | 30 mins | From 50€ | - |
| Taxi | 30 mins | 85€ | - |
| Helicopter | 10 mins | From 190€ | - |
Local Bus
By far the cheapest option is to grab the local bus, operated by Lignes d'Azur. The number 620 (formerly 200) bus takes you from the airport to Gare SNCF Cannes (train station). Travel time is around 85 minutes, traffic dependent.

Tickets are 1.50€ one-way and can be purchased from the driver (cash only), online from Lignes d'Azur, or via the Nice Ticket mobile app (iOS and Android). Service is fairly regular on weekdays during normal hours. Sunday service is quite limited, as is that after hours.

Bus 620 leaves from a bus stop called Aéroport Promenade, located just outside the airport complex. It's a short walk from Terminal 1. For Terminal 2, you can take the tram from outside the terminal and get off at the next stop, Terminal 1. The tram is free between airport terminals.

From outside Terminal 1, with your back to the terminal building, look directly ahead and you'll see a slightly elevated main road. This is the road that the bus takes. Follow the walkway from the terminal to the street level. The bus stop is on the opposite side of the road to the terminal. Cross at the traffic lights and it's on your left. The correct bus will say "Cannes 620" on the front.
Train (TER)
TER is the regional passenger service operated by SNCF, the French national railway company. The nearest train station to Nice airport is Nice Saint-Augustin. This is not in the airport complex. To get there, you'll need to take the L2 tram (direction Port Lympia) from either Terminal 1 or 2 to the Grand Arénas stop. From there, it's a short walk to the train station.

Tram transfers between Terminal 1, Terminal 2, and Grand Arénas are free. You don't need a ticket - just hop on. If you want to go further than Grand Arénas, you'll need to buy a ticket for your destination.

Trains run fairly frequently on weekdays, less so on weekends (particularly Sundays). And there is an evening service. Travel time is about 35 mins to Gare SNCF Cannes (main train station).

For tickets, you can either buy at the station or online from TER. A 2nd class adult ticket is around 4.60€ one-way.
Express Bus
The express bus number 81 (formerly 210) to Cannes is operated in partnership between Lignes d'Azur and Transdev. It takes you from Terminal 2 to Gare SNCF Cannes (train station) with about 45 minutes on the road, traffic dependent.

You can pick up the express bus from platform 2 at the Terminal 2 bus station. This is located just outside doors A1 and A3, and is well sign-posted. If your flight arrives or departs from Terminal 1, take the tram to transfer between terminals. This is free within the airport.

For tickets, these are not available on the bus so you need to either pre-book (recommended) or pick up one from the ticket office inside terminal 2. Buy online from Nice Airport Xpress. The airport ticket office is located inside the terminal on the ground floor, near gates A2 and A3. Prices are 22€ one-way, or 33€ return.

The express bus runs every day, with the earliest bus from Nice to Cannes at 8am, and from Cannes to Nice at 7am. Last buses are 8pm and 7pm respectively. Buses are often oversubscribed at busy times, so make sure you are at the stop in good time to get your seat.
Uber
Uber is operational in France and able to access Nice Côte d'Azur airport. Once you've arrived, use the Uber app to request your ride and follow the in-app instructions to meet your driver. You can also pre-book your Uber for peace of mind.

Uber's fare estimator suggests a guide price of around 50€ for a one-way trip between Nice and Cannes. This is of course subject to traffic, any surge pricing which might be in effect at the time of your journey, and ultimately, where exactly in Cannes you are going.
Taxi
There are taxi ranks immediately outside both Terminal 1 and Terminal 2. Follow the signs in the arrivals area. Taxi prices are legally fixed at 85€ for the journey from Nice airport to Cannes, although you may have to pay extra if you're carrying excessive amounts of luggage. Note that only the journey from Nice to Cannes is fixed price. Any return journey is on the meter.
Helicopter
If you're travelling in a small group and/or have an expense account, a helicopter transfer to Cannes from Nice airport is by far the quickest and most exciting option. There are two operators: Azur Hélicoptère and Héli Air Monaco.

Both companies offer private and shared rides, with the former obviously being at a premium price. Shared rides operate on a fixed schedule and normally carry around five passengers. The base fare starts at around 190€ per person. Hand luggage is included, but all other bags are charged on a per item basis.

Book online via the respective operator website. Instructions for meeting your helicopter will be provided once you complete your booking.
Late/Early Transfers
Lastly, if your flight is arriving or departing at an unsociable hour, your transfer options will be severely limited. In most cases, this means having to either take an Uber or taxi.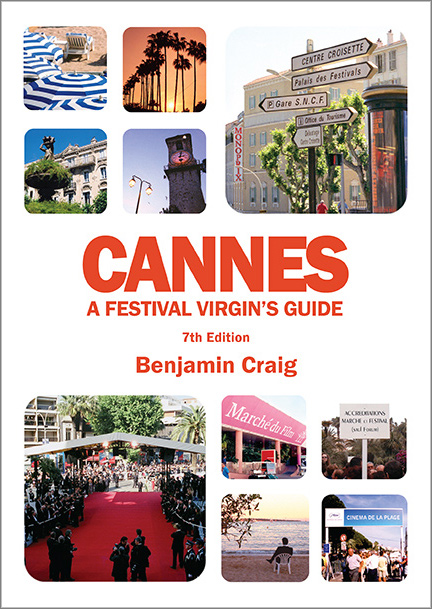 A full rundown on the 2024 Cannes Film Festival, is available in the book, Cannes - A Festival Virgin's Guide (7th Edition).
Find Out More >