L'Or Bleu
6 Boulevard de l'Esquillon, Théoule sur Mer | | €€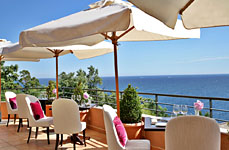 Multiple tastes from distant lands blend with local flavours in a graceful setting that extends across the terrace where you will enjoy basking in the warm colours of the day. As you take pleasure from the breathtaking view beyond the swimming pool to the immense expanse of the sea, you will be enticed by the new aromas that add spice to each new flavour you encounter.
Tel. 04 92 28 60 30 | www.tiara-hotels.com/h_grupo_page.asp?idioma=EN&id_page=177&id_hotel=11
Has this restaurant closed permanently? Let us know.

Reviews